Your behaviour as a leader is closely linked
to your employees' performance and their commitment
If your company's employees are not committed enough, do not perform well or do not stay in the job for long, your HR department and recruiters should take a really close look at where they go wrong. Shouldn't they?
Sometimes that may in fact solve the problem, but more often than not it is actually an entirely different group of people who should take a long, hard look in the mirror. And those mirrors are found in the managers' offices.
According to a survey among 1,200 Danish office employees, 44% have changed jobs to get away from a bad manager, and most people who have had a job have experienced good as well as poor leadership.
The bad news is that there are a lot of bad leaders. The good news is that leadership is not something that you are either good or bad at. Leadership is not about who you are – it is about what you do. And you can learn to do the right things.
The good leader is an allrounder
A few years ago, Google launched a comprehensive study in its own organisation, investigating the characteristics of a good leader. The conclusion was that a good leader is characterised by a number of "qualities," including being a good coach, empowering their team and being a good communicator.
These characteristics will probably be unsettling for a number of managers who see themselves as technically skilled, but who are not particularly strong in the mentioned areas.
That is actually quite alright and understandable. People are different, and what you may lack in one area, you probably make up for in another. But if you – and your leader – are not aware of these shortcomings, the company may be facing a serious problem. The employees experience the entire leadership "package", and if the leader's shortcomings outweigh his/her strengths, the employees may either be losing their motivation or leaving the company.
Four types of leadership behaviour
The leadership qualities identified by Google are undoubtedly important drivers of commitment for employees in many companies and organisations. According to our experience and research, the good leader, who is capable of creating commitment among employees and driving business performance, knows how to adjust his/her leadership behaviour within four overall categories: Leading, Managing, Structuring and Changing.
In other words; leadership is not about who you are, it is about what you do. The leadership task of course depends on the specific context of the individual company, but it will often require using tools from all four categories. To be able to navigate between the four behaviour categories, you need to know them and to have the tools necessary to develop the areas where you are not naturally strong.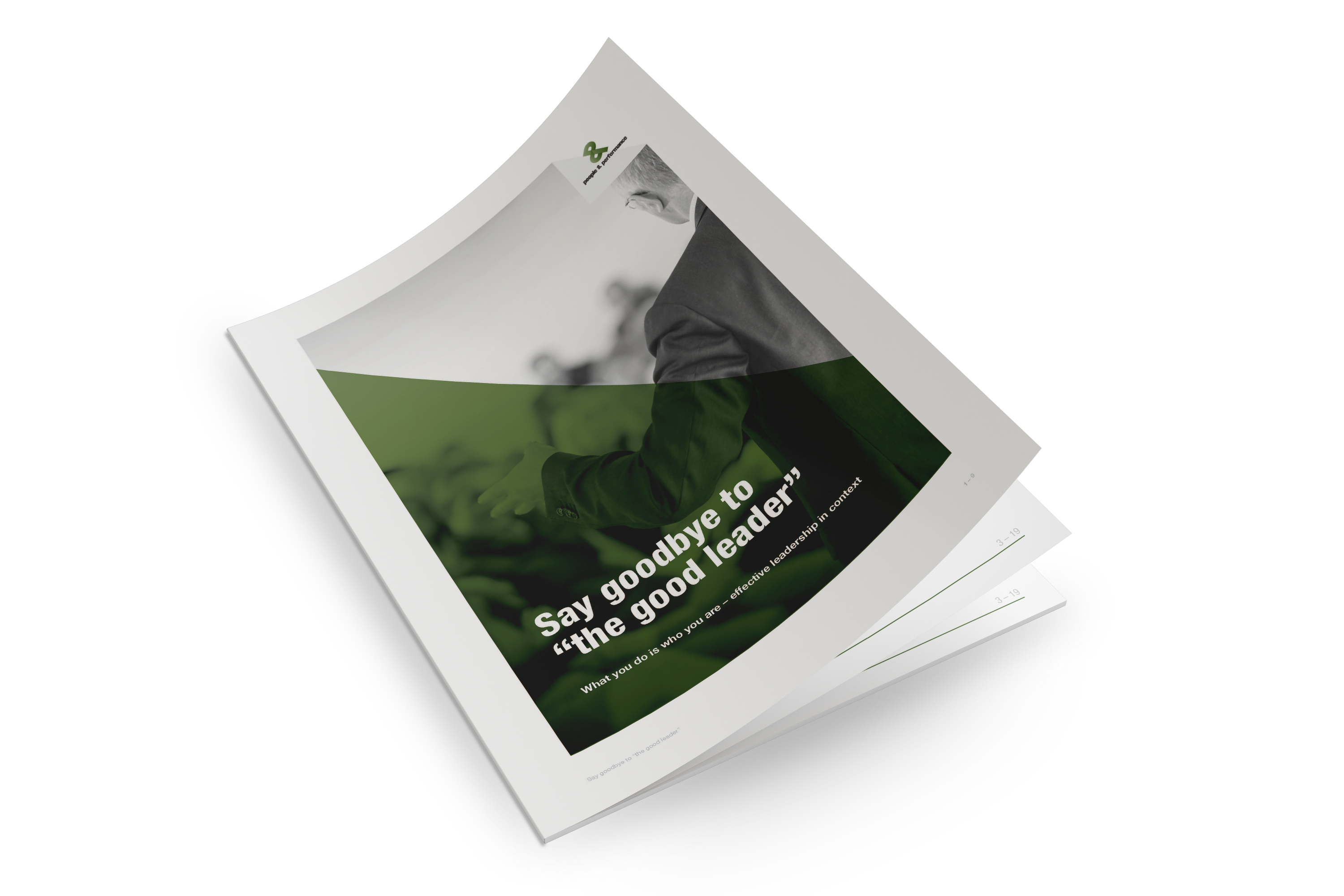 Say goodbye to "the good leader"
E-BOOK ON EFFECTIVE LEADERSHIP
Bad leadership is often quoted as the cause of workplace challenges. But is the solution "good" leadership? We don't think so and you can read why in our e-book "Say goodbye to the good leader"