Change processes are now a necessity and, if managed correctly, can be extremely useful in driving business and organisational development or in implementing and executing strategies.
At People & Performance, we have been working with change management for 15 years. Therefore, we know that change processes make great demands on you as a leader. Learn what a change process is and read more about the four phases involved in change.
What are change processes?
A change process is any process between one situation and a changed situation. It can be, for example, the implementation of a new IT system, a change in the values of the organisation or new forms of cooperation.
When we talk about change management and change process management, we are talking about planned, facilitated processes where there is a change initiator (typically top management) and an intention to change – typically an expectation of increased value creation due to more efficient workflows, reduced costs or innovations.
We are therefore not dealing with external changes such as financial crises, climate crises, pandemics, war or other external factors that certainly create change but are less planned. Instead, we focus on the change processes that are set in motion within and by the company. However, they can easily be triggered by external events.
The change of change
Change has traditionally been a planned process with a beginning and an end and four phases along the way. For example, when a new CRM system had to be implemented or an organisational change had to be made.
Today, the change process is also much more about changing the organisation's culture, values, self-understanding, ability to innovate or way of working with customers and the outside world or similar. This places completely new demands on you as a leader and on how you mobilise your staff.
The 4 phases of change
In most change processes, there are four main phases that deal with planning and managing the change. Each phase presents different challenges and opportunities:
1. Planning
2. Kickoff
3. Acceleration
4. Integration
Planning phase
Planning is the preparation for a change process. This is where you plan the project, assess the scope of change and the readiness of employees to change. It is also where you lay out a roadmap for employee involvement and for communication before, during and after the change. The aim of the planning phase is to be ready to mobilise people into the change as soon as it is announced, to reduce uncertainty and gain momentum from the start.
Kick-off phase
In the kickoff, the change must be initiated. This is where you set the planned activities in motion and seize what arises along the way. The aim of this phase is to get people to understand the purpose of the change and enable as many people as possible to contribute. Contributing to a change process is one of the most powerful ways to avoid resistance to change.
Acceleration phase
In acceleration, you need to "get on board" with the change. At this point, various people have been moved around, new processes are in place, new systems are accessed, and so on. The purpose of acceleration is to ensure that the new is implemented in the organisation.
Integration phase
Integration is the last phase of the change process and is unfortunately often forgotten. This is where you have introduced the new system and trained your sales people in it. In other words, this is where the change is in place and now needs to prove its worth in everyday life. This requires you as a leader to push to build the right culture, behaviours and practices that ensure the new systems and business processes deliver the intended returns. This is also where adjustments need to be made if a new system and an existing system do not mesh well, or if planned business processes that looked good on paper do not fit in practice. The purpose of integration is to adjust the change so that it supports efficient day-to-day operations. It is this phase that really creates long-term success and value.
The four phases of the change process are linked to Change Management and are relevant to master the "controllable" part of the change.
How do you preserve yourself in the change?
It is important that you, as a leader, include yourself in the change process. Successful change requires that the leader also learns and that you dare to be open about the fact that you do not know the final outcome of the change.
Major changes have often been known and agreed by top management long before leaders and employees hear about them. As a result, more leaders feel left to their own devices when dealing with increased complexity at an ever-increasing pace.
An additional challenge is that as a leader, you are expected to be a positive and active player and champion of the change that needs to mobilise employees, while you have had very little time to adapt to it.
Therefore, it is important that you are able to mobilise yourself. You can build good self-mobilisation strategies through a combination of:
• Own mental coping strategies (by creating visions, delimiting, balancing duties, etc.)
• Conscious use of physical activity as a "vent"
• Building trust spaces where you can share concerns without consequences
• Awareness of which management activities act as self-mobilisation
Management of change processes
For a change process to succeed, it requires active change management. Read our article on change management to learn how you, as a leader, can navigate safely through a change process. You are also welcome to contact us to find out more about how we can help you drive the next big change process in your organisation.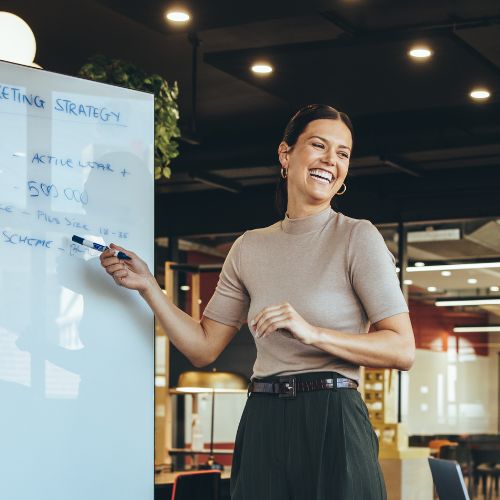 Want to read more about change management?
People & Performance has been working with change management for over 15 years and in this guide we provide a review of what lies behind the concept and answer some of the most relevant questions about change management.
We are each on the ground at both Danish and international companies, training their leaders to manage change.