What is integration?
Integration is the building of insight and understanding that creates the leader's foundation for exercising effective leadership. This, first of all, involves insights into the team's strengths and weaknesses, the corporate culture, and the most important internal stakeholders. Secondly, integration is concerned with clarity about what effect the leader must create through the leadership compared to his or her personal strengths. 
All this put together makes it possible for the leader to make the right, necessary decisions more quickly – thus achieving more effective leadership.
Reduce time from employment to full performance by a third
According to a study from Harvard Business Review, a thorough integration process of the new leader does not only support effective leadership, it also lets him or her reach a full level of performance more quickly.
57% of the leaders surveyed in the study answered that they needed six months to reach their full level of performance. However, with proper integration, this time can be reduced by a third from six to four months, making it possible for the organisation to develop and thrive faster under the new leadership. 
Avoid bad hires and save money
A bad hire should not only be understood as hiring the wrong candidate, it simply means a failed employment. Thus, it can also be due to a failed integration process, where an ideal candidate never gets the integration needed, leading to a resignation or dismissal.
And this can be costly. According to the U.S. Department of Labor, a bad hire costs up towards 30% of the person's salary the first year.
As a company, you must therefore make sure to hire in the most appropriate way, so that the investment in the new employee is secured. Thus, we are back to what it's all about: integration.
Performance Acceleration course lays the optimal foundation
The integration of your new leader should take place in direct continuation of the normal onboarding process.
At Compass, decades of experience with recruitment and leadership development as well as extensive research have made it possible for us to identify five focus areas that a new leader must work with in the first few months of employment to optimise performance. We have divided these five areas into a course consisting of seven digital meetings, where we get around all aspects of the integration in your organisation.
These areas are centered around these questions for the new leader:
What benefits should your leadership drive in the new context?
What parts of the organisation's culture support performance, and what should you develop – and how?
How do you use your personal leadership and how do you avoid derailment?
Which stakeholders should you mobilise and how do you proactively influence them?
How do you uncover the team's ability to deliver and understand the needs to adjust?
The course structures the integration, including the dialogues that the leader should have with various internal stakeholders, for example the CEO. The predetermined course lets the leader always know what he or she has to relate to and work with from week to week. In this way, we thoroughly go through all the focus areas that are essential in the effective integration.
The integration process uses the individual as a starting point and is centered around the personal leadership as well as the organisation's DNA. We ensure that the leader knows his or her strengths and how to leverage them in the best possible way in relation to your organisation
Let us help you with successful integration
We can help facilitate a successful integration process of your new hire. You can choose to let us handle the integration ourselves with our Performance Acceleration course, or we can equip the leader to be able to handle the integration process.
Do you want to know more about integration and its many advantages, then do not hesitate to get our free whitepaper, where we take a closer look at the subject.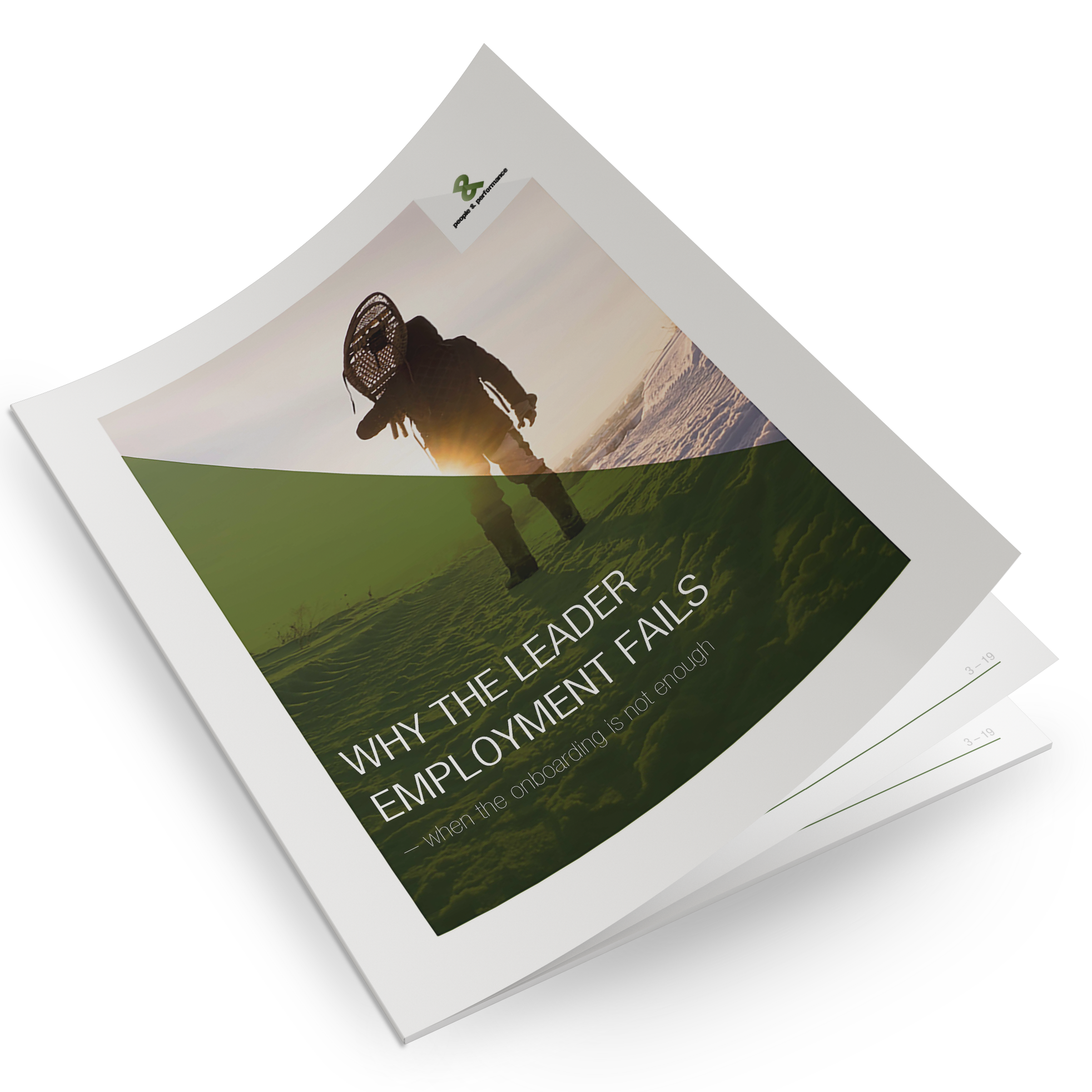 Ready to improve your new leader's success rate and reduce their time to full performance by a third?
Gain insights into the five focus areas critical to effective leader onboarding and learn how to integrate new leaders seamlessly.