In principle, when changed leadership behaviour has been identified as a way of reaching the company's business objectives, you basically just have to start changing.
However, if the company needs to develop in time with the strategy and realise the business potential through leadership development, it is crucial that the change of behaviour rests on a solid foundation. This is where the company's leadership principles come into play.
When we speak of having a set of leadership principles, we mean having defined expectations of the kind of leadership behaviour that will ensure the company's performance, strategy execution, goal attainment and similar business-critical elements.
When talking to businesses, we basically meet two different types. Those who have defined a set of leadership principles, and those who have not. The former has a great starting point, while the latter has a challenge to overcome.
Because how will you know what change in leadership behaviour you need in your company if you have not clearly defined what you expect of your leaders?
Leadership principles must be measurable
If you haven't defined your leadership principles or your leadership foundation (it goes by many names), you can do so with help from consultancies such as People & Performance. But even if the principles are already in use to some extent, it may be a good idea to review them and ensure that they are actually serving the right purpose.
A number of conditions need to be in place for the leadership principles to form a useful foundation for developing leadership behaviour, for example:
They must be anchored in the company's strategy
They must describe the behaviour that is essential for realising the strategy
They must be specific and describe behaviour in an active manner
They must be operational and easy to understand
The list is not exhaustive, but it gives you an indication of whether or not the leadership principles can be used in a tool – a 360-degree survey – where the different parameters become operational and thus useful to identify and understand leadership behaviour. It provides the individual leader with the opportunity to monitor and control his/her own development.
Remember that any strategic changes must be implemented in the rest of the organisation as well. There may be many reasons for setting a new strategic course; changing market conditions, replacement of key positions or similar, but it is essential that the rest of the organisation follows suit to avoid confusion. Whenever basic strategic changes are made, the leadership principles should be reviewed too. Otherwise, you risk developing and maintaining leadership behaviour that does not match the new business context.
Behaviour must be contextual
When developing leadership principles, it is vital that you ensure they support the company's strategy and business objectives, and that your work on leadership behaviour is aligned with them as well. If that is not the case, you will find it difficult to reach your targets.
That a company has a set of defined leadership principles is not a given. If your company is currently without a set of defined leadership principles, you have two options:
Either you do the work in-house. If the company is of a certain size with a large HR department, this solution might often be an option.
Alternatively, you can seek the assistance of a consultancy. This will often be the best option if your in-house resources are already strained.
At People & Performance we have extensive experience developing and implementing leadership principles and also conducting the leadership assessments that are imperative to ascertain that the leadership behaviour matches the business context.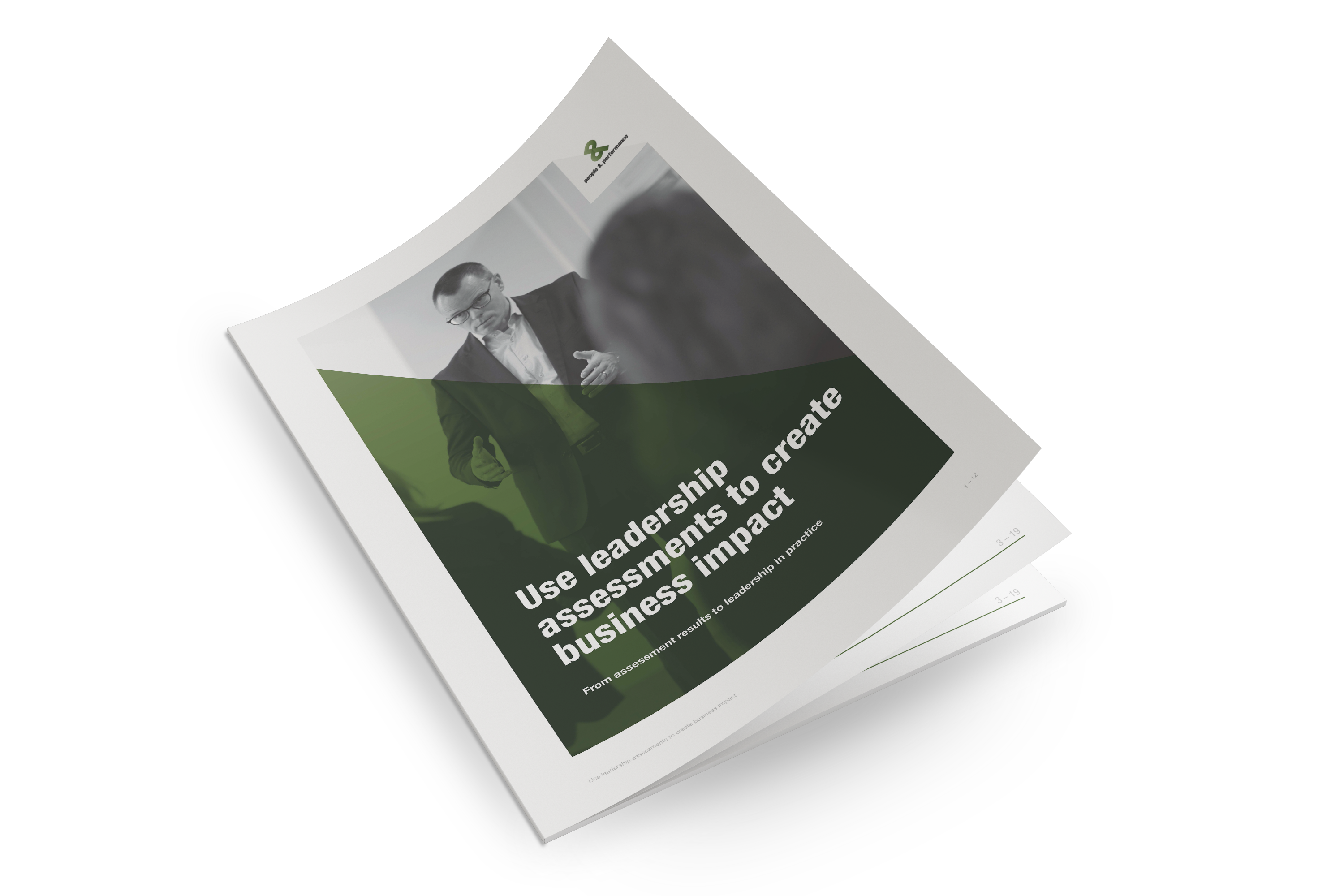 Use leadership assessment to create business impact.
How to convert from assessment results to leadership in practice.