Good leadership is very much about behaviour.
And the recipe consists of several ingredients
Most leaders go to work aiming to do a great job. However, a fair share of leaders fail to do just that, because they do not succeed in leading in a manner that matches the context.
Great leadership is very much a question of behaviour and context. So the perfect leadership recipe contains several ingredients. Some of which we will discuss in this blog post.
From good leadership to effective leadership
"Good leadership" is an often used – and misused – concept, maybe because its definition is somewhat ambiguous. At People & Performance, we prefer not to talk about good and bad leadership. We would rather talk about effective leadership. And about behaviour. Behaviour that promotes employee commitment and impacts business performance.
Effective leadership is when the leader acts in a way that matches the context. That is why you cannot make an exact sculpture of the effective leader – she may take on different colours and shapes depending on the actual context. However, we can define the behavioural categories which an effective leader must be capable of putting into play.
Motivator, planner and organiser in a changing world
The image of the good, strong or effective leader can be quite archetypal – often illustrated by a charismatic man stepping onto a soapbox, giving an incendiary speech, inspiring all his employees to hurry on back to their desks and work like there was no tomorrow.
But being able to inspire and motivate employees is only one of the four categories we work with when developing leaders and leadership assessments for our customers. We call this category leading, and it also comprises the ability to communicate a vision – to set the course and explain the purpose in a way everyone understands so everyone works towards the same goal. In addition to leading, there are three further categories; managing, structuring and changing.
Managing is about focussing on the daily operations and being capable of ensuring that the employees execute the tasks, allowing the business to keep up steam. This, among other things, comprises prioritising day-to-day tasks, planning and following up on objectives.
Structuring comprises the leadership tasks to be done in order to create or adjust the framework, enabling the employees to perform in the most effective way without wasting time. This may for example be organisational planning or documentation of procedures – tasks which many leaders are not itching to do when they arrive in the office on Monday morning, but which are essential for employee commitment and department performance.
The last category is changing. External changes happen all the time and increasingly so, and being a leader, it is vital that you can respond to them in a constructive manner. This may seem a somewhat unclear parameter – but it is possible to navigate if you have the right set of tools. This means that the leader must be capable of facilitating shared learning and development, and of predicting – and enabling others to predict – future changes and their impact on the business.
Leadership is behaviour
"Good leadership" is to perform effective leadership in a constantly changing reality. And depending on the context, the effective leader must be capable of leading within different disciplines – both in terms of inspiring and motivating others and by creating and communicating structure and sustaining day-to-day operation.
It is far from a given that a leader – and a person – is equally comfortable within all categories, but leadership abilities are not something you are born with. Leadership is behaviour, and you can learn, train and develop behaviour.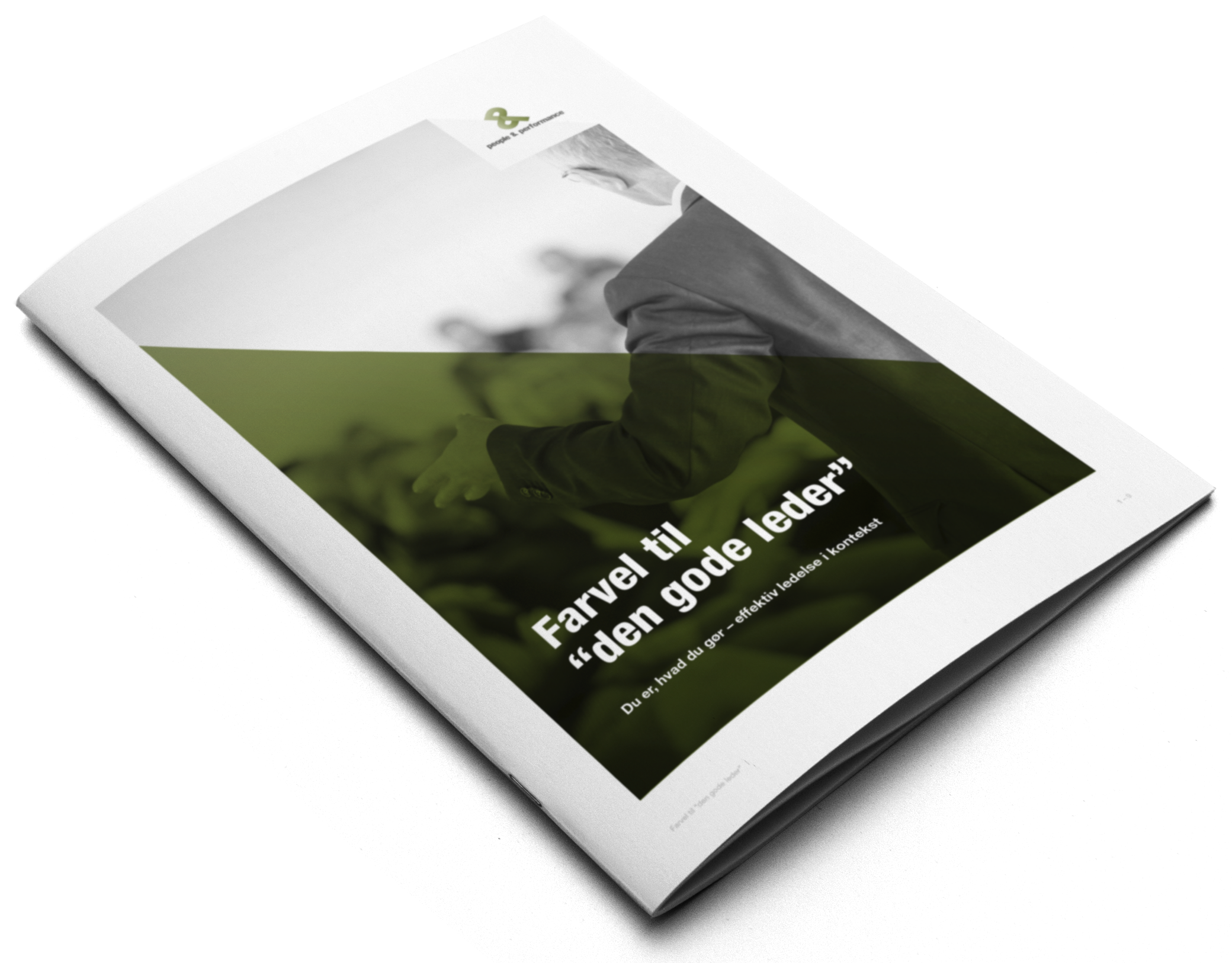 Farvel til "den gode leder"
Du er, hvad du gør
 — Effektiv ledelse i kontekst